Tory MPs keep powder dry on Europe for now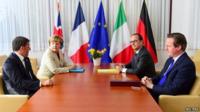 The UK's future direction for at least a generation hangs precariously on an uncertainty, balanced on the tip of the unknown.
I am talking of course about the planned referendum on the EU.
The brilliant thing about referendums, and one of the features that makes them so irksome for politicians is their binary clarity - "Yes" or "No", "In" or "Out".
This one will be like that, but it isn't at the moment.
For now, the most important group of potential voters are the "Maybes".
Read full article Tory MPs keep powder dry on Europe for now