SNP campaigning hard for big breakthrough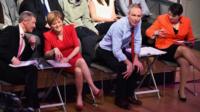 The Scots music group, consisting of ladies and gents of a certain maturity, are wrapped in big striped woolly jumpers or anoraks, as well they might for it is chilly at the open-air Balerno farmers' market.
They pluck and saw their instruments in the centre of a square of stalls selling chutneys and organic highland beef and the world's original tattie scone wrap.
This pretty village is part of the Edinburgh South West constituency, where some are predicting the SNP will come from fourth place to win.
The players are cheerful and enthusiastic about their music, less so about the election.
The general view was that the referendum was bad enough, but now the politicians are shouting at each other all over again.