Northern Ireland passions move centre stage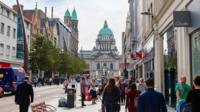 In Northern Ireland there are still bitter arguments about the old issues which divide this part of the world, about the flying of flags and the routes of parades.
It can seem very removed from the politics of the rest of the UK.
They don't even send MPs from any of the main parties to Westminster.
But in this General Election the ancient fears and passions of this province are echoed in paler colours on the mainland.
Moreover, MPs from Northern Ireland could decide who becomes Prime Minister.
Read full article Northern Ireland passions move centre stage