What comes after 'Oooh Jeremy Corbyn'?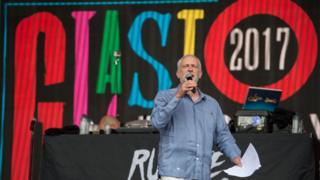 These days it's not that weird seeing a man born in 1949 rocking the crowds at the Glastonbury Festival.
Bruce Springsteen, Tom Waits and Richard Hell were all born that year and I am sure they could still get the campers roaring. The novelty value was that it was a politician, Jeremy Corbyn, who was lapping up the love this year.
However, the age gap and the "well, fancy that" factor have obscured the very real importance of the Labour leader's appearance at the annual music festival.
His first big gig since his election triumph (no, I know he didn't win, and yes it was) highlights the reason he's done so well, and flags up the pitfalls ahead. It could mark the point of peak Corbyn.
But a big deal? Certainly.