Grenfell Tower: A shadow over the capital
13 July 2017

From the section

UK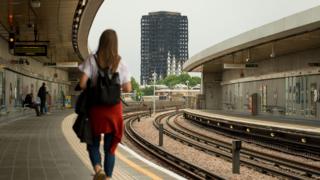 Drive over London's Westway, and Grenfell Tower demands your attention. It is a black nail that has been hammered into the nation's conscience.
In its shadow, the faces of the missing are everywhere - on lamp-posts and bus shelters, railings and walls. Unblinking they stare, it is hard to hold their accusatory gaze.
A month after this appalling tragedy, we still don't know exactly who or how many people died at Grenfell Tower. Perhaps that tells us something about our fractured relationship with the people who lived there.
Some, perhaps, were happy to be anonymous. But others were simply marginalised and isolated.
Only the most vulnerable and desperate would have been eligible for a vacant council flat in the tower. Traditional social housing such as Grenfell has fallen out of fashion. Fewer such homes were built last year than at any time since their invention, with just 6,800 completed in England.