The challenge of extremism
15 May 2015

From the section

UK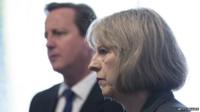 After my blog earlier this week and an appearance on the BBC News at Ten reporting on government plans to introduce extremist banning orders, it is upsetting to find myself accused of positively comparing the radical Islamist firebrand Anjem Choudary with civil rights hero Mahatma Gandhi.
I would understand people's shock and horror if I had - but I did not. Quite the reverse. Anjem Choudary is nothing like Mahatma Gandhi. Nor Nelson Mandela for that matter. Indeed, that was my point and I am saddened if it has been misconstrued.
Let me be clear what I was saying - the legislation being devised to deal with the former will need to be very carefully drafted to avoid scooping up anti-establishment figures such as the latter.
The home secretary and the prime minister are looking for a way to silence individuals whose extremist rhetoric helps radicalise people into supporting so-called Islamic State and Al Qaeda. Such support can and, tragically, sometimes does lead to violence that threatens our very way of life.
It is the responsibility of ministers to consider how to counter such threats to national security and individual safety.