Westminster: Where houses earn more than people
17 March 2015

From the section

UK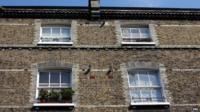 Members of Parliament heading home are greeted by a poster at the tube station that reads "£30,000 wouldn't even buy you floor space the size of this poster in Westminster".
It is a graphic reminder of the affordability crisis affecting housing in London and the South East - a disparity that has turned home owners in the region into lottery winners while those not on the property ladder are denied a roof over their head.
Research by the National Housing Federation to mark the Homes for Britain rally on Tuesday reveals that property values in England increased by £289 billion in the first three years of the current government, but £282 billion of that wealth growth (97%) took place in the capital and the South East.
The price of the average house in London, now a staggering £502,000, has been increasing each year by more than the average annual wage.
Most home-owners in the capital have seen their property earn more than they do. Small wonder that Generation Rent struggles to find anything it can afford.
Read full article Westminster: Where houses earn more than people