Is this the worst graph of the election?
28 April 2015

From the section

UK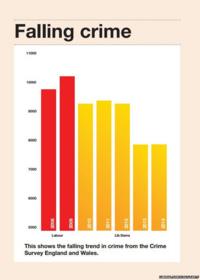 Is this the worst graph of the election? It is given a whole page in the Liberal Democrat manifesto but frustrates on so many levels.
PROBLEM 1:
The third column, labelled Lib Dems 2010, is for the financial year 2009/10 which finished a month before the Liberal Democrats joined the government.
PROBLEM 2:
The last column, labelled 2014, should actually be much LOWER than depicted. Strange…
PROBLEM 3:
The Y-axis doesn't start at zero. This sends statisticians into frenzies. By clipping the height of the bars, it makes small changes look much bigger.
PROBLEM 4:
The graph focuses on a small part of the time series available. A longer period would give a much better understanding of the crime trend.
PROBLEM 5: