Former DPP says Troubles prosecutions should cease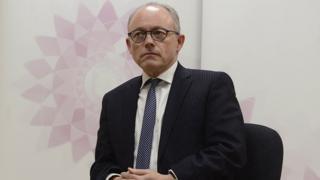 NI's former Director of Public Prosecutions has called for a halt to criminal prosecutions for murders carried out during the Troubles.
Barra McGrory denounced proposals for a new Historical Investigations Unit (HIU) as "convenient politically, but not really properly thought through".
The HIU would take over the task of re-examining 1,700 unsolved murders from the police and the police ombudsman.
Last week, a public consultation on the legacy of the Troubles was launched.
The government consultation was based on plans agreed by the local parties under the 2014 Stormont House Agreement.
Read full article Former DPP says Troubles prosecutions should cease