NI politicians pull back from precipice with 'Fresh Start' deal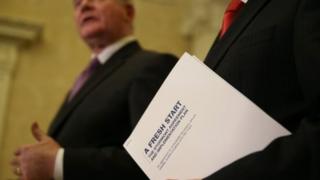 After 10 weeks of negotiations the "Fresh Start" deal means that once again Stormont's politicians have pulled back from the edge of the precipice.
Failure to reach a compromise would have meant the executive's so called "fantasy budget" would have run out at some point before the start of the next financial year.
Before we had reached that point, the key players would probably have walked away and Westminster would have had to reinstate direct rule.
Fans of this deal may point out that, for all Stormont's drawbacks, a recent BBC RTÉ survey showed continued devolution to be the most favoured option in the short to medium term - backed by 42% of those interviewed in Northern Ireland.
It also claimed the agreement has secured an extra £500m for the Stormont budget.
Read full article NI politicians pull back from precipice with 'Fresh Start' deal