Same-sex marriage: Should NI voters get to decide in a referendum?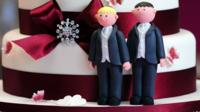 So, if voters in the Republic of Ireland are going to the polls to give their views on same-sex marriage on 22 May, why shouldn't their counterparts north of the border get the same opportunity?
That's what Sinn Féin's Martin McGuinness wants, and both the SDLP and Alliance are prepared to give the idea a fair wind.
But unionists - who have until now blocked the introduction of same-sex marriage in a series of Northern Ireland Assembly votes - are not impressed. Both the DUP's Nigel Dodds and the UUP's Danny Kennedy indicated they would reject the move in a UTV election debate.
Supporters of change point to surveys suggesting the majority of people in Northern Ireland approve of same-sex marriage as evidence that MLAs are out of touch with public opinion.
But the problem with the referendum suggestion is that it is far from clear how such a poll might be called. Referenda tend to be much less frequent in the UK than in the Republic of Ireland. Although the 1998 Northern Ireland Act enables a Northern Ireland secretary of state to call a border poll in certain circumstances, nothing in it confers upon the assembly or the Northern Ireland Executive the right to hold a referendum of their own.
'Not binding'
Read full article Same-sex marriage: Should NI voters get to decide in a referendum?