A hole in Stormont's safety net?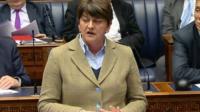 Arlene Foster's latest finance paper increases the pressure on Stormont politicians as they continue to lock horns over welfare reform.
Until now the parties had been under the impression they had the benefit of a safety net that would allow Permanent Secretary of the Finance Department, David Sterling to pass an emergency 95% budget if an act has not passed through the assembly by the end of July.
A 5% cut to departmental coffers sounds unpleasant and potentially damaging to the provision of public services, but not a doomsday scenario.
However, the Arlene Foster paper introduces the added complication that Mr Sterling won't be able to authorise the Stormont departments to use other amounts, such as EU farm payments, fees from planning applications and money from pension funds.
This cash is known in accountant's jargon as 'accruing resources'.