Week ahead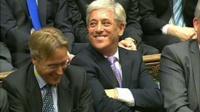 Parliament's back, but not yet firing on all cylinders.
The Commons select committee system will be kick-started with a motion to re-establish it on Wednesday, but the chairs and the ordinary members will not be in place for a couple of weeks yet. With no legislation to be processed, the only real action is in the main chambers with the Commons and Lords' respective debates on the content of the Queen's Speech.
Keep an eye out for MPs auditioning for a variety of roles - aspirant select committee chairs will be weighing in, during suitable sections of the Queen's Speech debate, and those with a hat in the ring for Labour's leadership and deputy leadership, and even the candidacy for the London mayoralty, will all be seeking to cut a dash.
Commons-watchers will also take a keen interest in the elections for the three deputy speakerships - with former Backbench Business Committee chair Natascha Engel joining incumbents Lindsay Hoyle and Eleanor Laing.
Even if there are just three candidates for the three posts, one nuance to watch is that the candidate with the most votes gets the job of Chairman of Ways and Means - which will put them in the chair for the Budget statement in July.....and into pole position to become the next Speaker when John Bercow calls it a day. Nominations close on Monday and the election is on Wednesday.