Will Tory MPs swallow May's Brexit formula?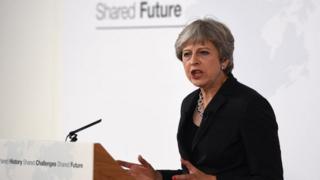 Last weekend the government had a glimpse of how quickly it could break itself over Brexit.
For a few hours, at least, it seemed as if Foreign Secretary Boris Johnson might resign, triggering a leadership crisis, and possibly an outright collapse. Maybe even an election.
The moment passed. There was a show of unity at the Cabinet. But you only need shows of unity when you are trying to manage dangerous divisions, and tensions over the final form of Brexit still lurk behind the fixed grins of ministers, as the prime minister's "Brexit Means Brexit" rubric wears thin.
Viewed against that backdrop Theresa May's Florence speech now looks crucial to the political stability of the Conservative Party.
Because the government is not just negotiating with the EU; it is negotiating with itself and, by extension, with its backbenchers, and with the broader constituencies of Leave and Remain voters outside Westminster.
'Double-lock'
Read full article Will Tory MPs swallow May's Brexit formula?