What's on in Parliament?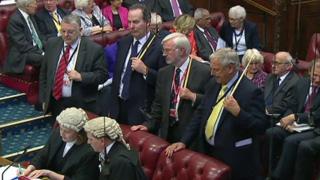 This week's Commons and Lords agendas are dotted with opportunities to consider amendments from the other lot - the process of Parliamentary ping-pong is now in full swing - but the likely subjects for the attention of honourable members and noble lords will by the Data Protection Bill and the Sanctions and Anti Money-Laundering Bill, and not the eagerly-awaited EU (Withdrawal) Bill.
That will not be seen until June at the earliest, and it is entirely possible that the wait might be longer than that - at the moment the government risks defeat on many of the 15 amendments passed by peers.
Beyond that, it's a gentle descent towards the half-term break. But that gentle ticking sound you may just be able detect is the sound of the clock ticking towards Brexit Day, and at some point an awful lot of essential Brexit legislation will have to be processed, which could mean some changes to sitting hours and revision of planned recesses.
But there are a couple of fascinating subplots.
First, the fate of an increasingly beleaguered Speaker. Having just avoided a Standards Committee investigation into allegations about bullying staff, John Bercow barely had time to heave a sigh of relief before new claims emerged, accompanied by new calls for his resignation.