Week ahead in Parliament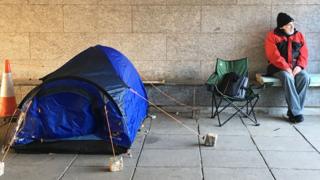 Parliament's Brexit phoney war continues this week, with key pieces of legislation being held back by the government. The Taxation (Cross Border Trade) Bill and the Trade Bill have both cleared their Commons committee stages, but they may now be marooned in parliamentary limbo until after Easter, while the fragmented tribes of Commons Remainers plot to attach toxic (to the government, anyway) amendments. Proposals on another key Brexit issue - immigration - float in the clouds nearby.
In the Lords, peers have barely begun their detailed scrutiny of the EU (Withdrawal) Bill, and serious attempts to amend it won't start until after Easter. So much for all the talk of Parliament being swamped by the legislative implications of the Leave vote. Instead, our lawmakers are sweeping up the last vestiges of uncontroversial measures about space ports and nuclear safeguards, and remarking to each other in the tones of a 1950s western, that it's "quiet, too quiet."
Labour's flirtation with the idea of supporting Britain establishing "a" customs union with the EU may have dramatic implications for these and other bills when they do come to the wicket. If Labour whips in favour of amendments along those lines, the government could be in trouble, and Remain Conservatives may face a painful choice between their party and their euro-principles.
But that is for the future. Next week there is a bit of novelty to divert MPs, in the form of two days of "Estimates" debates. The novel bit is that they will actually get to debate, er, the estimates, the government's detailed plans for spending taxpayers' money.
For years Estimates Days were rather strange occasions, on which the Commons would be presented with a select committee report or two to debate, before rubber stamping plans to spend billions of pounds of public money. If any MP had the temerity to stray into the substance of what they were voting on, and suggest that more might be spent on X, and less on Y, they would be ruled out of order by the chair.