Committee powerhouse takes time to get going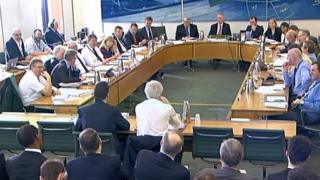 The modern - elected - Commons committee system has become a political powerhouse, certainly in comparison to its tepid predecessors.
In the last Parliament, the Work and Pensions and Business Committees held spectacular hearings on the plight of the pensioners of the collapsed British Home Stores chain; the Foreign Affairs Committee had to be courted by David Cameron as he sought to ensure he got a Commons majority for military intervention in Syria; the Brexit Committee caused considerable ripples with its report on the status of EU nationals resident in the UK; the Health Committee pushed for a new tax on sugary drinks, and a pincer movement involving Health, Communities and the Public Accounts Committees highlighted the issue of NHS funding.
So how will the system fare in the new Parliament of 2017?
It will be a while before we find out.
With talk of a delay before Parliament can open for business, while the Conservatives and DUP negotiate a "confidence and supply" deal, it now looks distinctly possible that the whole Commons select committee system may not begin work until October.
Slow start
Read full article Committee powerhouse takes time to get going