Week ahead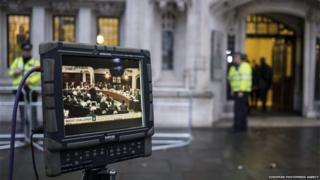 With rising chatter anticipating the publication of the Supreme Court ruling on whether Parliament has to vote on the triggering of Brexit, via the now-famous Article 50, next week's biggest parliamentary event will probably be the ensuing ministerial statement giving the government response.
And parliamentary follow-up can also be expected after it was confirmed that Theresa May will make her long-awaited major speech on Brexit on Tuesday, which might offer some glimpses of the government's negotiating aims.
Elsewhere, after a government defeat and a tied vote this week, it looks like a quiet week in the Lords (unless Article 50 fallout intrudes).
Peers look unlikely to push back at the government after MPs rejected changes they had made to the Policing and Crime Bill. There are plenty of amendments down for the committee stage of the Higher Education and Research Bill - but despite the continuing chuntering around this measure, there seems little enthusiasm to push any of them to a vote.
Watch out to see if Labour moves fast to move the writ for a snap by election in Tristram Hunt's Stoke on Trent Central (Jamie Reed in Copeland has yet to actually resign, and may not quit till the end of the month... although campaigning is already under way in his seat, and MPs from various parties have already been up to show the flag).