Week ahead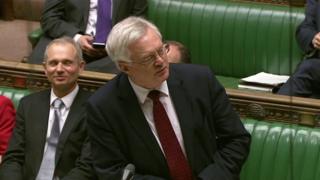 Having trailed the possibility of a Supreme Court ruling on Parliament's role in triggering the formal EU process for Brexit - Article 50 - for the last two weeks, we finally have a definite date for this crucial announcement: Tuesday.
The government will give its response in a statement from the Brexit Secretary David Davis, with business being interrupted at some point in mid-afternoon, after ministers have had a chance to digest the small print of the judgment.
If, as expected, the Supremes announce that a full-scale bill has to go through Parliament, he may well announce the timing there and then.
Any bill will of course require the full cycle of second reading, committee, report and third reading proceedings in both Commons and Lords - and the critical point will be the amount of time allowed, particularly to MPs.
The smart move would be to clear a pretty humdrum parliamentary schedule and let them debate Article 50 until they drop, to defuse any suspicion that discussion has been curtained by procedural jiggery-pokery.