Syria conflict: Fighting for a future for Yarmouk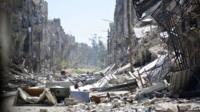 A refugee camp which grew into the liveliest of neighbourhoods is now crumbling into the deadliest of quarters as life drains away by the day.
Never has the future of Yarmouk looked so uncertain for the community of Palestinian refugees as well as Syrians who call it home.
"There are a few scenarios, and some are nightmarish," said an Arab diplomat in the Syrian capital.
A place trapped in a deepening maelstrom since it was drawn into Syria's uprising in 2012 suffered another devastating blow this month when the jihadist Islamic State (IS) group entered the battle for the area.
Despite reports IS gunmen had withdrawn to their stronghold in the adjoining neighbourhood of Hajar al-Aswad, sources in Damascus say fighting continues among Palestinian factions with IS fighters pushed back, but still present in about 40% of Yarmouk.
Read full article Syria conflict: Fighting for a future for Yarmouk