Russian plane crash: UK-Egypt ties take a hit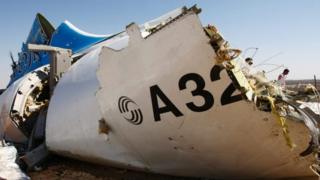 One week after a Russian airliner broke up in the skies over Egypt's Sinai Peninsula, there is still no official conclusion or consensus on what shattered the plane, killing all 224 passengers and crew on board.
In the urgent search for answers, relations between London and Cairo have taken a hit.
"We touched some raw nerves," admits a senior British government source present during tense talks this week which followed the UK's announcement that the plane "may well have been brought down by an explosive device".
That evoked a worst-case scenario that it may have been the work of the local jihadist group Sinai Province, which pledged allegiance to the so-called Islamic State a year ago.
Its claims to have downed the Airbus were initially treated with scepticism.
Read full article Russian plane crash: UK-Egypt ties take a hit