Yemen conflict: A passport out of war
21 May 2015

From the section

Africa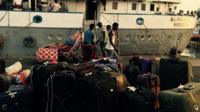 A human tide reaches the shores of Djibouti almost every day.
Waves of Yemenis are taking to the sea in packed yachts or wooden dhows meant to ferry fishermen or livestock, not a people fleeing for their lives.
The boats dock in Djibouti's main harbour or the miniature port of Obock further north, a jumble of rocks just 30km (19 miles) across the Red Sea from its neighbour torn by war.
"Schools are closed, colleges are closed, sometimes hospitals are shut because there's no electricity. It's so dangerous," laments 22-year-old Salma al-Shabib, who crouches by a wall as she waits to clear immigration at Djibouti port.
Like almost all the women seeking shelter from the searing heat, she's completely covered in black, except for a small slit that reveals anxious brown eyes.