Budget speech: South East 'conspicuous by absence'
18 March 2015

From the section

England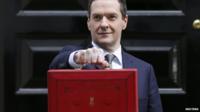 Chancellor George Osborne has delivered his final Budget before the general election - his message was that Britain is growing again - in fact faster than any other major advanced economy in the world.
But if you thought that meant he was about to announce some pre-election giveaways in order to woo undecided voters you're likely to be disappointed.
Some areas did see announcements that are aimed at stimulating growth - the chancellor announced provisional agreement had been struck to allow Greater Manchester to keep 100% of the additional growth in local business as part of the government's drive to build a "northern powerhouse".
In fact his speech was peppered with place names - from funding to help boost the oil industry in Aberdeen to a £1 billion world-first scheme to provide green energy from the tides of the Severn estuary and £60 million of funding for energy research in the Midlands.
But, despite the fact he was on his feet for over an hour, the South East region was conspicuous by its absence in his Budget speech.
North/south divide
Read full article Budget speech: South East 'conspicuous by absence'