Election 2015: South East MPs take on new roles after election win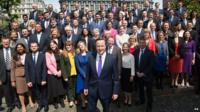 No one can deny that the Conservatives pulled off a stunning election win in the South East.
David Cameron confounded the pollsters to secure an outright majority, but the Prime Minister said his sweetest moment of the election was seeing Kelly Tolhurst win back Rochester from Mark Reckless.
The results saw the South East turn a deeper shade of blue both at Westminster and across the region's local authorities.
The Conservatives seized back control of Gravesham Borough Council from Labour and also took control of Eastbourne.
Farage stays on
UKIP did have some success - they took control of Thanet District Council, their first local authority.
Read full article Election 2015: South East MPs take on new roles after election win