David Cameron: 'No complacency over South East'
2 October 2015

From the section

England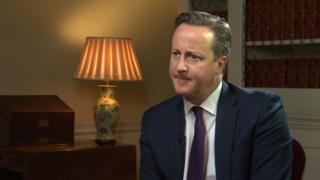 It's fair to say few people expected the Conservatives to win a majority at May's General Election, and even fewer would have put money on the Conservatives increasing their number of MPs in Kent and Sussex - a region they already dominate politically.
But that's exactly what happened. To the Prime Minister's great delight, they won back the Rochester and Strood constituency from the UKIP candidate and former Tory MP Mark Reckless. They also took both the Lib Dem held seats in Eastbourne and Lewes.
So, it's little wonder that when I interviewed David Cameron ahead of his party's annual conference he told me: "Ah, the South East, we're doing rather well there."
That's undoubtedly true. But, it's perhaps because they have done so well in this region in recent elections that some feel the Conservatives have become complacent about the need to woo voters here.
'Eurotunnel better protected'
This summer, Kent hit the national headlines on a daily basis as the county was brought to a standstill as day after day the M20 was turned into the biggest car park in Europe with Operation Stack in force because of the ongoing migrant crisis in Calais.
Read full article David Cameron: 'No complacency over South East'