Leon Brittan and the miners who would never forgive him
23 January 2015

From the section

England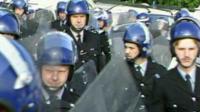 Three decades ago in the early hours of what promised to be a beautiful spring morning my car was stopped at a police roadblock on a quiet country lane and I was threatened with arrest.
It came as a complete shock.
As far as I was aware there was no mad gunman on the loose, no dangerous road traffic accident ahead, no sensitive military secrets being defended and this was certainly not one of those countries with a cavalier attitude to legal and civil rights.
This was the 1980s in the English countryside on a road passing through the glorious natural beauty of the Cannock Chase Country Park in North Staffordshire.
It was also the road that five miles further along led to a coal mine.
Read full article Leon Brittan and the miners who would never forgive him