Is Yorkshire still the promised land for UKIP?
10 April 2015

From the section

England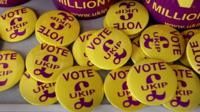 Every main party national leader has jumped at the chance to be quizzed by a BBC Look North viewers' panel at the Yorkshire news programme's Leeds studios.
After all, some of the UK's most closely-fought seats are in Yorkshire so all the leaders should be trekking to the county several times in the weeks of campaigning before the polls open on 7 May.
UKIP's Nigel Farage has been the exception.
He had no problems accepting the invitation to explain his party's policies to the panel but not a single date could be found when he would even set foot in Yorkshire during the campaign.
The programme's recording had to be squeezed into a whistlestop tour he was making of the Great Grimsby and Boston seats in Lincolnshire where UKIP has high hopes of taking a seat each from Labour and the Conservatives.
Read full article Is Yorkshire still the promised land for UKIP?