Lord Mason of Barnsley: Mineworker who never forgot his roots
21 April 2015

From the section

England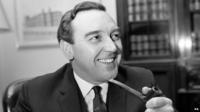 Lord Mason of Barnsley was one of the most influential politicians of the 1970s but never forgot his roots as a mineworker who became the MP for his home town.
He was Labour's Defence Secretary under Harold Wilson and oversaw one of the most comprehensive reviews of the strength of the armed services since the Second World War.
And he was James Callaghan's uncompromising Secretary of State for Northern Ireland where he took on the IRA at the height of its powers.
All this was a long way from Roy Mason's upbringing in the pit village of Carlton just outside Barnsley where he left school with no qualifications and went down his local pit as an apprentice at the age of 14.
In an interview with the BBC in 2007 to mark him being awarded the Freedom of Barnsley: "I wasn't thinking about politics then- just getting on with life like everybody else and that meant going down the pit".
'Make a difference'
Read full article Lord Mason of Barnsley: Mineworker who never forgot his roots