UKIP MEP Jane Collins fails in bid to avoid damages
27 October 2016

From the section

England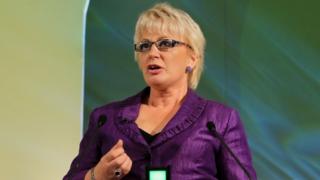 Jane Collins' seat in the European Parliament chamber in Strasbourg was empty earlier this week even though the result of the vote that was about to take place was likely to cost the UKIP MEP for Yorkshire and the Humber hundreds of thousands of pounds.
MEPs were deciding whether she could invoke the highly unusual defence of European Parliamentary privilege to stop the High Court in London ordering her to pay damages after it had ruled she had libelled three South Yorkshire Labour MPs.
In fact, it was far from the first time that she had failed to turn up to give evidence at parliamentary and court hearings in what has now dragged on to be a two-year legal saga.
It all started when she made a speech at UKIP's 2014 annual conference in Doncaster in which she claimed that Labour MPs Sarah Champion, John Healey and Sir Kevin Barron, who represent Rotherham in South Yorkshire, had known all about the mass grooming and rape of young girls in the town but had done nothing about it.
The MPs immediately said it was a was lie and sued.
Read full article UKIP MEP Jane Collins fails in bid to avoid damages