US election: Driverless cars and other reasons we have Trump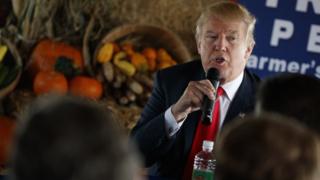 This election is fascinating because it tells us so much about a country that is rapidly changing. There's no one reason to account for Donald Trump, it is the product of a number of social, economic and cultural shifts.
In no particular order, and you may think of others, here's why I think Donald Trump is the Republican candidate for the White House this year.
1. Never Admire Free Trade Again
Nafta - America's free trade agreement with Mexico and Canada - was passed in 1994.
In 2016, it's still the bogeyman in lots of manufacturing communities where they blame Mexico, and later China's entry into the World Trade Organization for stealing American jobs.
Trump promises to undo US trade agreements and make American manufacturing "great" again.
2. Financial crash - and no one even went to jail
Read full article US election: Driverless cars and other reasons we have Trump