Thomas Cook chief executive apologises to family over Corfu tragedy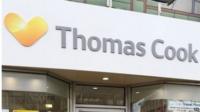 I have just spoken to the chief executive of Thomas Cook who has told me he is "deeply sorry" for the tragedy in Corfu which saw the deaths of two children aged seven and six.
After days of controversy when the company seemed unable to find its human side under layers of corporate speak and legal defences, Peter Fankhauser has now apologised to the family.
He said that the matter had not been handled well by the company since 2006 when the two children - Bobby and Christi Shepherd - were poisoned by a faulty gas boiler during a Thomas Cook holiday to the Greek island.
The family of the children have described the behaviour of the company as "appalling" and there have been calls to boycott Thomas Cook.
"First I want to say that I am deeply sorry about the tragic death of Bobby and Christi Shepherd in 2006," Mr Fankhauser told me.
Read full article Thomas Cook chief executive apologises to family over Corfu tragedy