Google defends its business as EU sanctions loom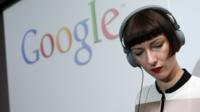 At a press conference at 11:00 BST today, it is expected that the European Union's competition commissioner, Margrethe Vestager, will outline the case against Google's dominant position in the search market.
It is likely to allege that the technology firm uses that position to direct search traffic to its own businesses, such as Google Shopping.
Some people call that market abuse, a claim Google firmly denies.
Although this is a significant moment, as with anything to do with the European Union, it is another stage in a slow process which is likely to take a number of years to resolve.
I first reported on the launch of the investigation back in 2010 before the last general election.
Read full article Google defends its business as EU sanctions loom