Treasury to announce tax evasion clampdown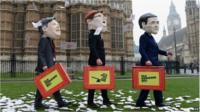 Details are starting to come out about Government plans to overhaul the law on tax evasion.
I am told that an announcement will be made in Parliament this morning about a two pronged attack on the issue.
The first prong will be concerned with the thorny issue of "intent".
It's understood that tax investigation authorities will no longer have to prove intent to evade tax via offshore accounts to prosecute.
'Aiding and abetting'
The difficulty of proving intent has been one of the major reasons for tax evasion cases collapsing or never being taken in the first place.
Read full article Treasury to announce tax evasion clampdown