Rosetta comet lander tells magnetic story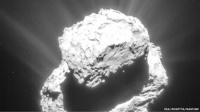 The comet being trailed through space by Europe's Rosetta probe has no magnetic field of its own.
The finding is significant because it answers one of the major questions of the mission - namely, did magnetic fields play a major role in pulling together the material that makes up icy dirt-balls like 67P?
On this evidence, it would seem not.
Other formation processes must have been paramount in the nascent Solar System, 4.5 billion years ago.
Researchers working on the European Space Agency mission released their assessment here at the European Geosciences Union General Assembly meeting. They have also published a paper in the journal Science.