Where next for solar-powered flight?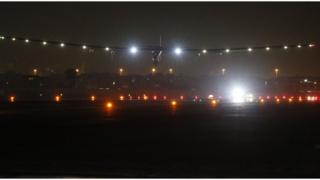 There was something mesmerising about watching Solar Impulse come in to land, particularly at night.
Moving slowly but deliberately, its LEDs lighting the way - the plane did look very different to anything we would recognise at an airport.
This Swiss project set out to achieve a number of goals.
The obvious one was rooted in adventure - to do something no-one had done before and to fly around the globe on no fuel.
It's certainly achieved that, and, in fact, set no fewer than 19 aviation records in the process.