Hubble issues 25th birthday image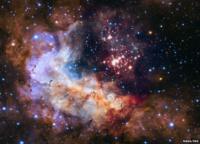 The Hubble Space Telescope has celebrated its silver anniversary with a picture featuring a spectacular vista of young stars blazing across a dense cloud of gas and dust.
The "Westerlund 2" cluster of stars is located about 20,000 light-years away in the constellation Carina.
Hubble was launched on Space Shuttle Discovery on 24 April, 1990.
Engineers expect the observatory to keep operating for at least another five years.
"Even the most optimistic person to whom you could have spoken back in 1990 couldn't have predicted the degree to which Hubble would rewrite our astrophysics and planetary science textbooks," commented Nasa Administrator Charlie Bolden.