Italy avalanche: A cruel coincidence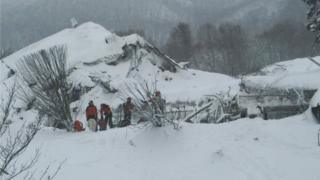 It's a cruel coincidence that the latest swarm of big quakes to strike the Apennines region of Italy should occur just after a period of very heavy snow.
The sizeable tremors - four magnitude fives in the space of four hours on Wednesday - appear to have triggered an avalanche that swept into the Rigopiano hotel in the Grand Sasso resort area, killing many of its occupants.
The deep drifts have made it difficult for emergency workers to reach the smothered building and deal with the crisis.
Earthquakes cannot be predicted but seismologists had suspected this particular area of central Italy would experience another batch of serious tremors sooner or later.
What we're seeing is a classic case of gap filling - of previous quakes stress-loading adjacent zones, which then fail themselves as a direct consequence.