Getting ready for the mission to Hell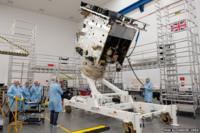 They must be the two most audacious space missions currently in development.
Solar Orbiter and Solar Probe Plus will venture inside the orbit of Mercury to study the Sun.
The temperatures on the front surfaces of these satellites will go into the high hundreds of degrees Celsius, and beyond.
You could say they are the missions to Hell.
Designing the systems needed to protect the spacecraft has stretched the minds of engineers.