Packed halls, lively debate: Why hustings are a hit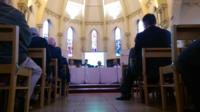 David Cameron has been telling reporters that this election campaign is not about photo opportunities but more about the UK's long term economic revival.
However, that's at the heart of the media's frustration.
The fact is the campaign has become a succession of tightly controlled photo opportunities... by all the main parties.
This has become the hi-vis, hard hat election.
It's been the predictable campaign gear for both David Cameron and George Osborne.
Read full article Packed halls, lively debate: Why hustings are a hit