Election 2015: Fear dominating election campaign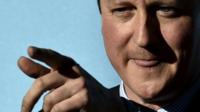 In the early 1960s, before the birth of smartphones, before the retreat from privacy, the US historian Daniel Boorstin wrote a groundbreaking book called The Image.
Boorstin was troubled by the emergence of what he called "pseudo" events, increasingly presented as news.
"It is not spontaneous," he said, "but comes about because someone has planned, planted or incited it... it is planted primarily for the immediate purpose of being reported or reproduced."
I have been reminded of this during the current election campaign.
There are daily events but, certainly with the two main parties, the general unscreened public is rarely invited.
Read full article Election 2015: Fear dominating election campaign