Election 2015: Parties play up the tribal rhetoric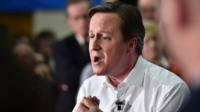 There are still tribes in British politics.
They may have weakened as voters increasingly act like consumers, happy to switch brands.
But the tribes can still be spotted - groups that could only belong in one political party.
They were there on Monday in Chippenham where David Cameron chose to make the first stump speech of his campaign.
It could have been a country fair or an auction room in the Wiltshire town.
Read full article Election 2015: Parties play up the tribal rhetoric