Merkel and the days of terror
27 July 2016

From the section

Europe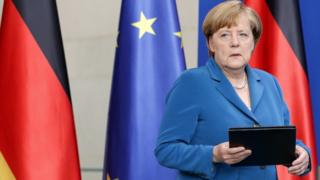 The decision to accept more than a million refugees was Angela Merkel's biggest political gamble.
At first, she was widely applauded for her moral courage and leadership.
She told the German people: "We can handle this," and there was a certain pride in German hospitality, in seeing citizens chant at Frankfurt railway station: "Say it loud, and say it clear, 'Refugees are welcome here.'"
For the German chancellor, the refugee crisis underlined that "the heart and soul of Europe is tolerance".
Doubts about her policy surfaced earlier this year, particularly after young women in Cologne were allegedly assaulted by groups of largely foreign men on New Year's Eve.