Hillary Clinton's flaws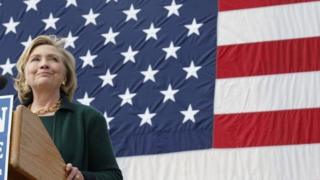 It must be tempting for Hillary Clinton to do little but count down the clock to the election in November. She is so far ahead in the polls and in key battleground states like Virginia and Colorado, her lead is in double digits.
This week she has attended a string of fundraisers, filling her war chest to bombard key states with commercials as the election nears. She has already reserved slots worth $80m (£60.7m).
And yet two-thirds of the American people say they do not find her honest or trustworthy. And that is her flaw.
This week she has been on the defensive. The nagging question is whether, when she was Secretary of State, she traded access to herself and others in government in exchange for payments to the charity the Clinton Foundation.
Her campaign denies the claim and says there is no proof. An investigation by Associated Press, fiercely contested by the Clinton campaign, found that a significant number of people she met outside government ended up paying into the Clinton Foundation.