Election 2015: The Cameron dilemma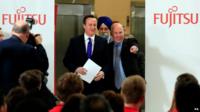 Last Friday, surrounded by Fujitsu workers in Solihull, David Cameron's voice was impassioned as if finally he had a piece of news that could not be challenged and would shake up the campaign.
"We are," he said, "the jobs factory of Europe."
More jobs, he went on, had been created in the UK than in all the other 27 EU countries put together.
Then he paused, stared at the speech prompt at the back of the room and declared: "We are living through a jobs miracle."
Politicians claim many things, but the announcing of a miracle is rare.