Greek crisis deepens amid EU tensions
19 February 2015

From the section

Europe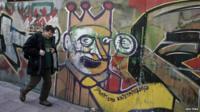 After hours of fast-moving developments, a deal to settle the Greek bailout crisis hangs in the balance.
This morning Greece confirmed that it was sending a letter to the head of the Eurogroup, Jeroen Dijsselbloem. It was a formal request to extend the loan agreement by six months.
The Greeks were offering significant concessions. They said they would refrain from taking any unilateral action that would undermine fiscal targets. They agreed that officials from the European Union, the European Central Bank and the International Monetary Fund - formerly called the troika - would supervise compliance with the deal.
This was a significant step. Although the Greek prime minister has announced the troika as dead, officials from those institutions would still very much be active.
Greece also pledged to meet its financial obligations to all creditors.