Is the EU at risk of breaking up?
26 January 2016

From the section

Europe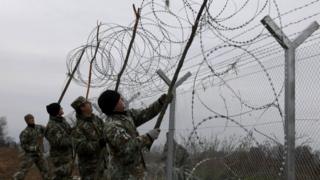 For the past 10 days, Europe's leaders have been engaged in a bout of gloom.
They openly admit Europe has lost control of the migrant crisis, and they fear for the future of the European project itself.
Certainly, the Schengen agreement - which guarantees freedom of movement and is one of the pillars of European unity - is being widely ignored as fences go up and border controls reappear.
On Monday Greece was even warned that it could find itself excluded from the Schengen area if the flow of migrants is not stemmed.
But do these leaders really believe the European Union itself is at risk?