Prostate cancer gene map points way to targeted drugs
21 May 2015

From the section

Health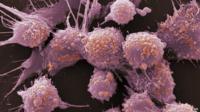 Scientists have unveiled a comprehensive genetic map of advanced prostate cancer, hailing it as the disease's "Rosetta Stone".
The study, published in the journal Cell, shows that nearly nine in 10 men had gene mutations that could be targeted with drugs.
The study was led in the UK by scientists at the Institute of Cancer Research (ICR) London in collaboration with several teams in the United States.
Researchers analysed the genetic codes of tumours from 150 patients with metastatic - or advanced - prostate cancer, whose disease had spread to other parts of the body.
They found that 89% had genetic aberrations for which there were existing drugs or treatments undergoing clinical trials.
Read full article Prostate cancer gene map points way to targeted drugs