Exploring dementia through art and science
17 May 2018

From the section

Health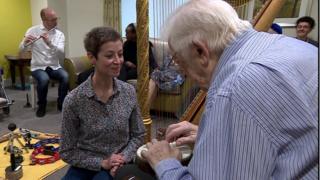 It is like watching an awakening. Baton in hand, an elderly resident of a care home in north London is "conducting" a trio of professional musicians, a broad smile on his face.
Like the other residents in the room, he has advanced dementia.
Next to me, one of the carers has a tear on her cheek - she explains that in all her time of looking after these men and women, she has never seen them so engaged and responsive.
There is no doubt about the potential for music to unlock memories, give enjoyment and reveal something of the individual that has been lost through the damage caused to the brain by dementia.
Music for Life is an interactive outreach programme for people with dementia, by Wigmore Hall in London.
Read full article Exploring dementia through art and science