The assisted dying debate
26 May 2015

From the section

Health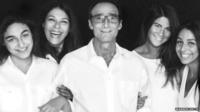 Nearly 300 Britons have travelled to Zurich to die with the help of the Swiss suicide group Dignitas.
Most have done so without any publicity. But cases like that of Jeffrey Spector, a 54-year-old father of three who had an inoperable tumour on his spine, reignite the debate about whether assisted dying should be legalised in Britain.
In the last session of Parliament, the Assisted Dying Bill, got further than any previous attempt to change the law in England and Wales.
The Bill, introduced by the former Labour Lord Chancellor, Lord Falconer, ran out of time before the election.
Lord Falconer said he would enter the ballot for private members bills after the Queen's speech but told the BBC's World at One: "If it's not selected, that will make entirely chancy whether or not it's possible to pursue the bill in the Lords.
Lethal prescription