Pollsters, Pilates and the politics of labels
17 November 2016

From the section

UK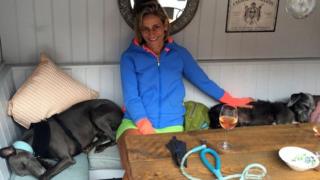 This morning, a throwaway phrase stopped me in the middle of a stomach crunch.
It was during a (liberal, elite) Pilates class - when our (gay, Australian ) teacher addressed the (white, female) participants with the words "Right now girls...".
I think I am breaking no confidences when I say that not one of us in the lesson was aged 11 or under. We were all in our thirties. Perhaps forties. Who's counting?
But I heard the world "girl" and wondered if I should give it a mental rap on the knuckles. Then I realised something that startled me - that I loved being a girl in that class, with all the connotations of youth and stamina and perhaps flexibility it endowed. Ironic, really, that that was the moment the stomach crunch died on me.
Unless I am in Sheffield, the land of my childhood, where everyone still calls everyone else "ducks" (plural, as in "Aright, ducks?") - a term of endearment I never ever want to lose - then I am referred to as a woman. By respectful colleagues, strangers, commentators and the High Street.
Read full article Pollsters, Pilates and the politics of labels