Imports to keep the lights on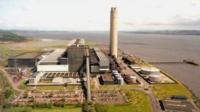 The challenge of keeping the lights on has returned to Holyrood, with MSPs looking into the security of the nation's energy supply.
"The nation" is a flexible concept here, as this is a Scottish viewpoint, when everyone agrees that the energy market should remain British, if not expanding into a European single market, with the help of more sub-sea inter-connectors.
Appearing before the enterprise and energy committee are the big energy utilities, and their regulator. Scottish Power and SSE (Scottish Hydro, to most of us) are among those under pressure over consumer bills.
They had made it clear that prices were stuck while they waited to see if Ed Miliband and Labour would follow through on freezing prices. That interventionist policy also had the unintended consequence of raising investment risk.
With Miliband defeated and a less interventionist government in power at Westminster, it follows that prices should now fall, and investment plans can be taken out the chiller.