Ryanair's brace position for a hard Brexit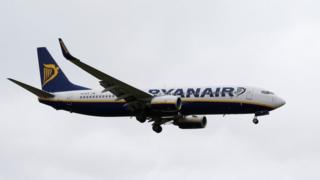 "Modest" - not a word you would normally associate with Michael O'Leary of Ryanair. But that's how the chief executive describes his results for April to June, as growth of the airline climbed, albeit slowly.
The guidance is for revenue and profits to keep gaining altitude, with 10% more passengers this year, reaching 117 million over the full year to March 2017. That's eased from 18% passenger growth last year, and it continues to moderate to between 4% and 8% forecast growth over the next eight years.
With weakening demand, O'Leary's going after fare cuts of 8% in the first half of the year, rising to 10% over next winter. Lower fuel costs saving him 200m Euros, he can afford to pass that on.
He's making less on insurance and car hire, but more on priority boarding. Next innovation is Ryanair Rooms, due for launch in October, in an attempt to take on the hotel booking sites and AirBnB.
Pivoting away
In other news, Ireland's chief cheeky chappie is as reassuringly combative as ever. Norway has slapped a tax on passengers, so he's closing Oslo as a base and withdrawing half of the country's flights. French air traffic controllers keep striking, so he's wanting compensation, and other countries' controllers to handle overflights.
Read full article Ryanair's brace position for a hard Brexit