Scotch's trade winds turn stormy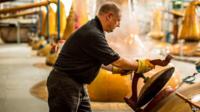 The mast and sails haven't been ripped off the good ship Scotch Whisky amid stormy trade winds, but after a decade of sterling export performance, she looks ready for a major overhaul.
The fall in total exports last year, published by the Scotch Whisky Association, won't come as a surprise to anyone who has been watching the big distillers publish their financial figures in recent months.
As I explained when Diageo put out its numbers for the back end of last year, the market leader has done exceptionally well out of clever marketing, hitting the sweet spot of aspirational middle class consumers in emerging economies who want to buy international luxury goods.
But progress is proving bumpy and tricky. The seemingly endless India-EU trade talks still protect the world's largest whisky market behind a 150% tariff barrier.
China offered so much potential, and it still does. But for now, Scotch has got on the wrong side of official disapproval of extravagant gifting, particularly if it looks like corruption.