Who to trust at Alliance Trust?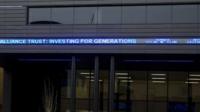 You might not notice the big modern black box on Dundee's West Marketgait unless your eye is caught by the electronic read-out of share prices along its frontage.
It's just across the road from Debenhams and the Overgate shopping centre, but this isn't a building most Taysiders would take in on a day in the city centre.
The people inside - it employs 250 - are keepers of a long pedigree of canny Dundonians.
Founded in 1888, this was where the city's jute barons invested in the empire, and it has retained that global investment outlook up to the present day.
At the start of last month its savings arm had £6.9bn of assets under management, while its investment division had attracted £1.9bn of third party funds. From that, the biggest stock picks included Visa, Walt Disney, Prudential and Google.