Osborne and Swinney: balancing the books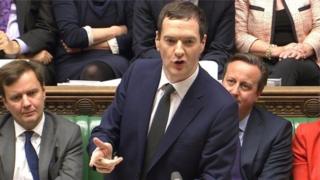 George Osborne says he aims to "fix the roof while the sun's shining". To help make the point, perhaps unwittingly, he's granted £5m to a refurb of the Burrell art gallery in Glasgow.
It has a very leaky roof, but this being November and the collection being in Glasgow, there's not much sun shining. Work is due to start early next year, lasting until 2019, at an estimated cost of £66m.
There are, of course, rather more significant Spending Review announcements on which to reflect. Here are some, as they affect Scotland.
Defrosting council tax
A lot of what the chancellor announces on such occasions is policy for England, or for England and Wales. There are financial consequences that feed through to the Barnett Formula block grant reaching Scotland, Wales and Northern Ireland. But there are also policy consequences.
Devolution is under way in England. The chancellor says English local councils could raise more if they feel it's needed to meet their social care costs.