From Indyref to Euroref: What's been learned?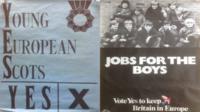 A rifle through the attic recently turned up a memory of being 11 years old, newly taken by politics, and collecting stuff - the way boys do.
A tube of posters included campaign material from the 1975 referendum on British membership of what was then the European Economic Community.
As political messaging, some of it looks dated now. And just a bit sexist.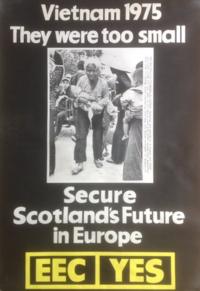 And most extraordinary of all, it seems to indicate that if Britain wasn't inside the European club, it would be too small to face the mighty clashing forces of the Cold War that had forced Vietnamese refugees to take to perilous seas in rickety boats.
Next week will be 40 years on from the referendum, on 5 June 1975. And it's a sad reflection that we are now witness to not just a 21st century seaborne refugee crisis in Asia, but another that comes much closer to home, in the Mediterranean.
Read full article From Indyref to Euroref: What's been learned?