Clydesdale woes worsen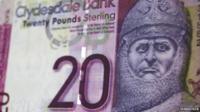 Mis-selling payment protection insurance? Which bank wasn't at it?
The compensation of customers has been providing a financial stimulus to the British economy far greater than any of the magic money tree promises coming from the political parties currently on the campaign trail.
But falsifying records to avoid having to pay refunds? That's seriously dodgy behaviour.
And so it is that the once venerable Glasgow institution of the Clydesdale Bank is in the dock for a misdemeanour - some are calling it a crime - far greater than selling customers things they didn't need, or couldn't use.
In some cases (no numbers provided) Clydesdale staff falsified customer records. This was to limit the amount paid to the customer.