Proust's Total Recall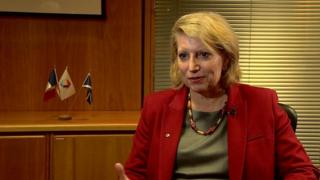 The oil industry stereotype is not renowned for its gender balance or appreciation of women's distinctive contributions. But the new boss at Total (Exploration and Production) UK is changing that.
Elisabeth Proust (it's pronounced Proost) is a very senior figure in the French oil giant, and recognised outside it with the French state's highly prestigious Legion d'Honneur.
She previously worked in Paris and The Hague, seeking out investment opportunities. That included Russia and India, for instance - not oil regions for the faint-hearted.
Her last two postings were in charge of the company's operations in Indonesia and then Nigeria. Again, very tough gigs.
Moving from Africa to Aberdeen at the end of last year means she has yet to see much daylight or feel much warmth from her new billet.