Brexit: flexing the work visa
20 October 2016

From the section

Scotland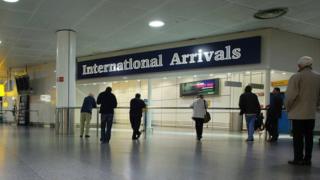 Business is already complaining about skill shortages. That's with slow economic growth and while it has freedom to recruit from across the European Union. So the prospect of Brexit closing the door to free movement across Europe is alarming the business lobby groups.
As with so much about Brexit, they don't know if that's what is going to happen. The past few weeks have seen the departure of many seasonal agricultural workers, wondering if they should be seeking work in another EU country for future work.
Business is looking for some guidance too, and in the absence of a plan from Whitehall, an interesting idea has been floated by the City of London Corporation. It's one that would have big implications for all the nations and regions of the UK.
City fat cats
The corporation is the strange beast - its historical roots lost in the London fog - which runs, represents and polices the Square Mile financial district. It is a lobby group for London finance, with foreigners making up 32% of the area's workforce. Within that, 12% are EU nationals.
So it has a big interest in ensuring that the future policy for issuing work permits isn't driven by the immigration fears of Brexit-voting regions outside the capital.