Manifesto promises for the East of England
17 April 2015

From the section

England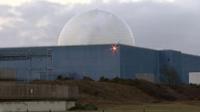 If the manifestos have told us anything this week, it is that the main political parties have different views on some of the big issues affecting the eastern region.
While their views on how best to tackle the deficit will influence how many people vote, their stance on things like transport, energy, the environment and immigration could sway a number of undecided voters.
The big "local issue" which they have all addressed is transport.
All the parties recognise that after years of under investment it is time to put some serious money into our railways.
The Conservatives and Liberal Democrats believe that keeping the trains in private hands is the best way to do this and that longer franchises will encourage operators to put more of their own money into improving rolling stock. Both parties have promised £500m investment in the notorious Norwich to London line.
Read full article Manifesto promises for the East of England