Road tolls: Paying more to use our A roads
22 April 2015

From the section

England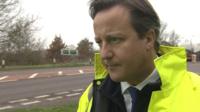 The denials were swift and explicit. "Complete fantasy", said Secretary of State Patrick McCloughlin. "Nonsense", said his colleague Robert Goodwill.
But might there just be some truth in the Liberal Democrat's claim that two years ago the Conservatives considered charging motorists for using some of the region's A roads?
For purposes of context and balance we should point out that the allegation came in the middle of the election campaign from a party which is trying to paint itself as having been the calming influence upon the Conservatives' more radical ideas in government.
And it's noteworthy the man making the claim was Norman Baker, who when in government was a constant thorn in the side of the Tories but nevertheless, a well regarded transport minister.
His claim is that back in 2013 the chancellor, George Osborne, came up with the idea of charging drivers £10 a month to use certain key A roads and the money would be used to pay for road improvements.
Read full article Road tolls: Paying more to use our A roads