Voyage to the north through ramparts of ice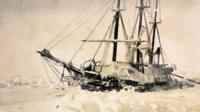 At first sight the great slabs of grey-blue ice covering the Arctic Ocean appear to be rock-solid and immobile but the extraordinary fact is that they are restless and shifting.
Beneath what appears to be an unbending and endless landscape, the winds and currents are constantly at work reshaping it.
During the long dark months of the past winter, Norway's research vessel, the Lance, has been stationed amid the floes and drifting with them at the amazing speed of half a mile an hour.
In the few days I spent on board, when the vessel seemed to be locked in a vice-like grip, we actually travelled about a dozen miles.
The view was essentially unchanging but the satellite navigation system revealed the extent of the drift and the Lance's journey can be seen here.
Read full article Voyage to the north through ramparts of ice