'Shame and anger' at plastic ocean pollution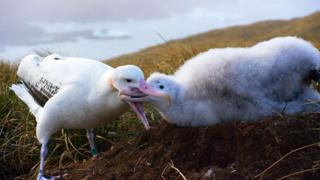 Scientists who advised the Blue Planet II documentary team say they feel "shame and anger" at the "plague of plastic" impacting the natural world.
Even in the remote waters of Antarctica, they have found evidence of plastic killing and harming seabirds.
Wandering albatrosses – which have the longest wingspan of any birds alive today – are thought to be especially vulnerable.
Nesting on the barren islands of South Georgia, they feed their young by scouring thousands of miles of ocean for squid and fish but often bring back plastic instead.
The final episode of what has become the most-watched TV programme of the year explores how the oceans are threatened by human activities including overfishing and pollution.
Read full article 'Shame and anger' at plastic ocean pollution