Longer-term thinking 'needed' on air pollution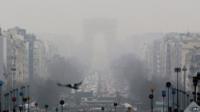 Warnings about dirty air come so often that only the most severe seem to catch anyone's attention.
The last major episode to grab the headlines came a year ago when many areas of Britain were blanketed in a noxious brew that turned the skies grey-brown for several days.
At the time, all eyes were focused on the most exotic -sounding ingredient - dust that had been blown up from the Sahara.
Tiny grains from the desert had indeed made the long airborne trek from the desert but most of the problem was caused by a nasty mix of pollutants created here and abroad.
Britain frequently finds itself on the receiving-end of pollution wafted in from the Continent - and more of that is forecast tomorrow with a current of air circling from central Europe across southern France and over the English Channel.
Read full article Longer-term thinking 'needed' on air pollution