What is the point of the Large Hadron Collider?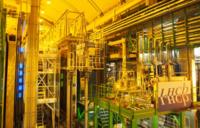 Every time fundamental research hits the headlines you can be sure that someone - maybe lots of people - will question whether it's worth it.
And so it is with the restart of this mother of all physics experiments, ready after its two-year upgrade to explore uncharted corners of the sub-atomic realm.
This vast machine ranks as one of the world's biggest experiments, with incredibly sophisticated machinery filling a 27km circular tunnel, and the bill so far has come to a little under £4 billion.
Back in 2008, when the vast device was first brought to life, one senior British scientist grumbled to me that "the particle physicists seem to get all the money they want".
Sound and fury?
His view was that humanity faces a long list of severe and immediate threats which are more deserving of the kind of massive scientific investment devoted to the research at Cern.
Read full article What is the point of the Large Hadron Collider?