Baby boom brings barn owls back from the brink
6 February 2015

From the section

England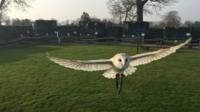 I love barn owls.
The little owl may be more adorable and the eagle owl more impressive but watching a pale barn owl floating silently across the fields is one of the UK's nature wonders.
And they really do float silently. I've been filming with Molly, a rescue barn owl, and she decided to take a bit of a detour while showing off for our cameras.
Skimming past my gauntleted glove she landed on a fence post right by producer Karen's head.
Karen, busy watching what the cameraman was filming, didn't even hear her arrive.
Read full article Baby boom brings barn owls back from the brink