Ellesmere herons race for survival
26 May 2015

From the section

England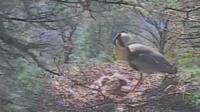 Herons are recognisable birds and many of us will have seen one launching gracefully into the air from the edge of a river. They tend to fly fairly slowly, retracting their long necks into a distinctive s-shape while airborne.
Since we often see them in the distance you may be surprised to learn just how big they really are.
After the swan they are our largest common bird, standing a metre tall with a wingspan that can be twice that. You only really get a sense of their size if you can get close to one.
And this week for Springwatch on BBC Midlands Today that's just what I was able to do.
'Huge gamble'
I went to Ellesmere Heronwatch in Shropshire to get up close with one of my favourite birds. The project allows visitors to see right inside the heronry itself and it's currently celebrating its 25th birthday!