English Votes for English Laws explained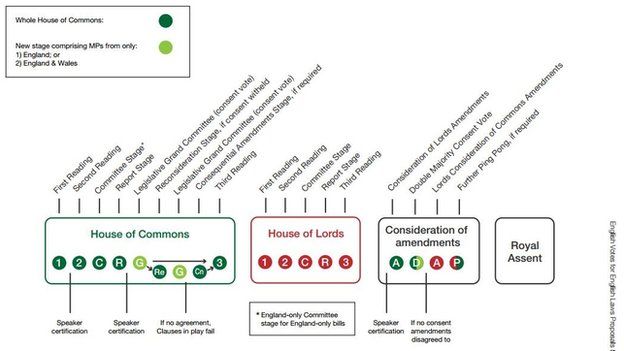 What do you mean, it looks complicated? The diagram is from the government's "explanatory guide" to its plans for "English votes for English laws".
It's a tale of vetoes, legislative grand committees, double majorities and "tablet computers" in division lobbies.
Commons leader Chris Grayling says it's only fair to give English MPs a stronger voice on English matters. But that means less of a voice for MPs from Wales, even if their constituents access public services in England.
Conservative former Welsh Secretary David Jones raised the issue on behalf of his constituents who were "heavily reliant" on services such as the NHS across the border.
Mr Grayling told him: "I am acutely aware of the issues affected by people, particularly in north Wales, where there are cross-border issues and where often Manchester and Liverpool can seem closer to north Wales than Cardiff does.